So I took a little trip to Atlanta, Georgia and Nashville, Tennessee this past week with my co-creator in crime, Sködt. The Atlanta part was for an Ayahuasca journey, which I will get into at a later time, but the Nashville part was for music. Sködt has a solo side project where he writes and performs some pretty amazing country music full of insightful, soulful, lyrics that read kind of like gospel. It's quite awesome. Anyway, he has wanted to record a song at Third Man Records for years, and here we were, presented with this opportunity. We were in Atlanta anyway and Nashville was just a short road trip away. 
We get to downtown Nashville around 2:15 pm and park our car in a lot which, according to the infamous Google Maps, was close to Third Man Records. We exit the car and walk over to the pay booth to grab a ticket. Reading signs, reading signs… Hmmm, parking is $20 for 2 hours. That's pretty outrageous, but oh well. We'll park here and walk to Third Man. It's super hot out and we'll be walking in the direct sun, but it shouldn't take long. Got lots of time, they're open 'til 7. Lalala… 
There was a man standing behind Sködt, waiting to pay at the parking meter as well. I'm not sure how the conversation started, but this man introduces himself as 'Dave'. He seems warm and friendly enough. We tell him that we are going to Third Man Records to record a song and he tells us that we are quite a ways away from it and that we should park closer. Apparently we were about a thirty minute walk from Third Man Records and we thought it was a five minute walk in the complete opposite direction! Thanks for that Dave! You saved us some time and money, not to mention saving our skin from the hot sun. 
Conversation ensues and Dave tells us the easiest way to get there. He follows that up by saying "When you get there, it's not going to look like you're in the the right place, but it will be the right place."  
Woah. Dude. Deep philosophy from a random man in a Nashville parking lot? Hell yes. What he said hasn't stopped blowing my mind. It's basically life, right? Sometimes what's happening doesn't seem like the right thing or the right place, but it is. We (earthlings) made this plan and decided on what we wanted to learn and experience before we even came to this planet. Sometimes that means going through an experience that is painful or confusing, and sometimes it's beautiful and captivating, but it's always the right place, even when it doesn't seem so. 
So friendly, philosophical Dave pointed us in the right direction. Woohoo! As we spoke a little more, Sködt says to Dave "Your accent is interesting, are you from Nashville?" It turns out that Dave is from Toronto and has been living in Nashville for ten years. How funny is that? The first and only person we meet in Nashville is actually from our town! 
Well, thank you Dave, I guess we'll carry on driving down the road until we get to the right place, which won't look like the right place. 
We pulled into the parking lot of Third Man Records (which had free parking) and took a cheesy smiley selfie before we opened the doors and went inside.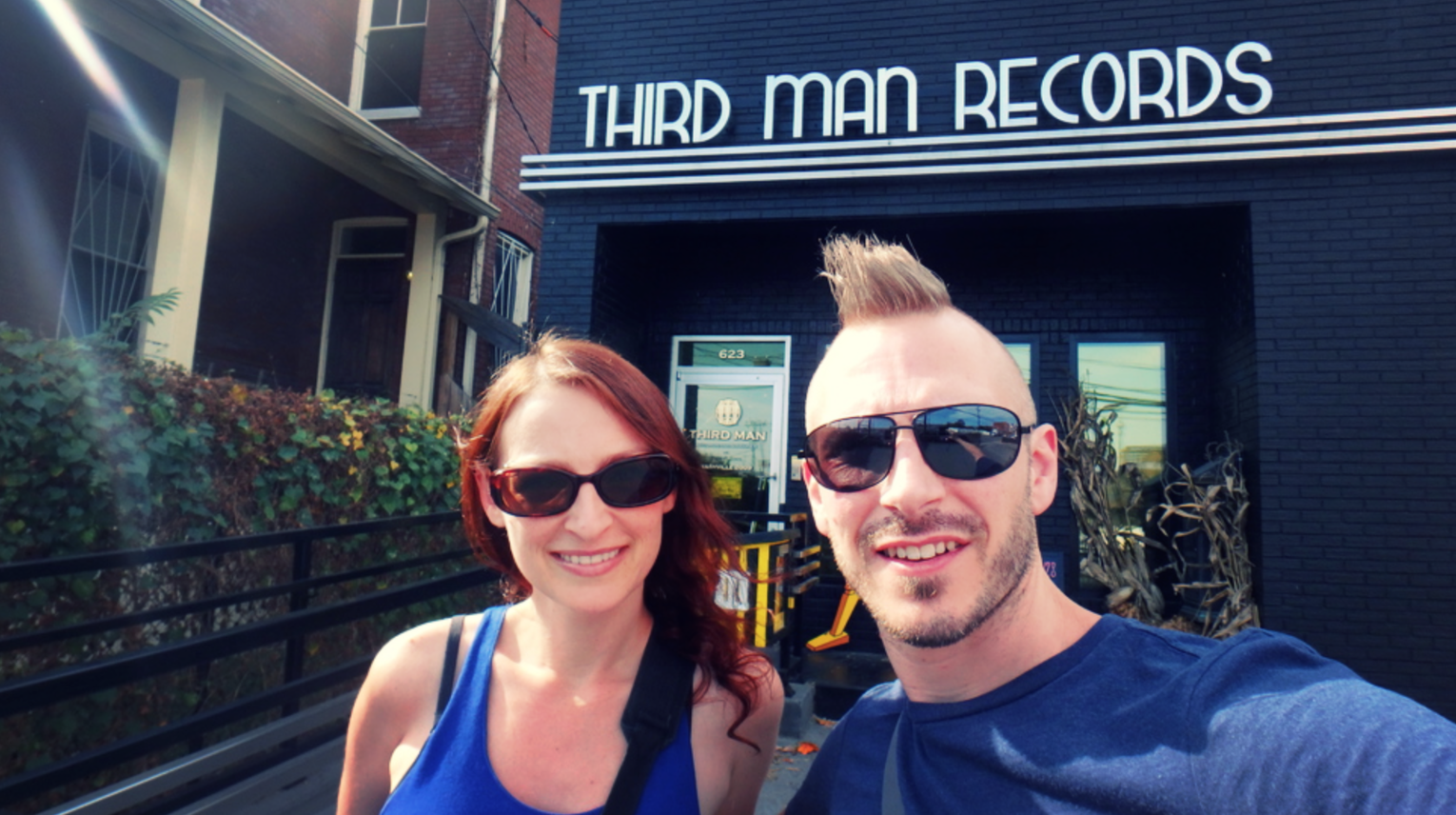 The place was magical. It was like Oz and Willy Wonka's Chocolate Factory combined, but with records and better decor.  

We spotted the booth. The recording booth there is about one hundred years old and records straight to vinyl! It also sounds about one hundred years old. You get the actual vintage sound of old mechanical recording gear. It's pretty cool. Sködt asked the girl working there if he could record a song. She said 'Yes, absolutely! The booth is actually working today, so it's your lucky day!'. Lucky indeed, since we came all the way from Toronto to do this. Woah. Carrying on… 
Take 1: After about 15 seconds, he sings the wrong lyrics and swears. Haha. 
Shakes off the red light syndrome and nervousness.  
Take 2: Perfect performance, tons of feeling, awesome awesome, and then… Totally lands on the wrong last chord. 
Ha! Ok let's try it again. 
Take 3: Nails it. Great take all the way to the end.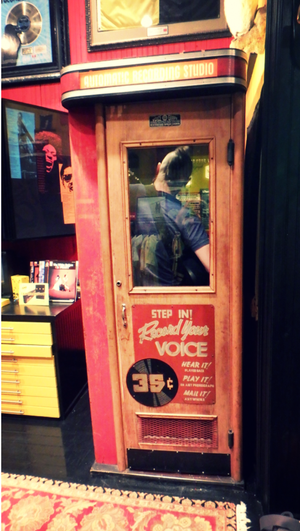 I don't think I've ever seen the man look so elated and satisfied. Just warm smiles all over the place. Even an exuberant 'woohoo!' that was captured on the vinyl record as well. Afterwards, we browsed the storefront for a few minutes, chatted with the staff and picked up some records and music paraphernalia.  
We exited the building and sat outside on the stoop for a couple of minutes, gathering our senses and getting our bearings. Literally. We didn't have GPS to guide us around, so we were looking at maps. Then we heard the front door lock. What the? They aren't supposed to close until 7:00 and it's only 3:00! Little did we know, that it was the 50th Annual Country Music Awards that day in Nashville and Third Man was closing early. So let me get this straight. Dave from Toronto shows up and points us in the right direction, saving us a 30 minute walk, which otherwise would have made us too late to record because the store would be closed. The recording booth, which is usually broken down, is actually working and Skodt records his country song at Third Man Records in Nashville, a long time goal, on the illustrious day of the 50th Annual Country Music Awards, finishing moments before they lock up. Yep, that sounds about right. 
After our trip, we sat and listened to all three of the records on our stereo. The first one was funny, with a big 'Ahh, shit!' about fifteen seconds in. The second one was a really good performance, but the recording was really wonky. The machine must have been acting up because the stylus was jumping all over the place as it was recording to the vinyl, making the music sound way too lo-fi and difficult to make out. So I guess that wrong last chord was a total blessing, because if Sködt nailed the second take, we would have gone home with just that crappy recording, instead of having the third take as well, which was both a great performance and a good recording.  
So ya. When you get there, it's not going to look like you're in the the right place, but it will be the right place. Thanks, Dave! You were truly instrumental in our musical journey.